Finalist
Anti Corruption and Open Government
---
Political Process Monitoring
---
Contact information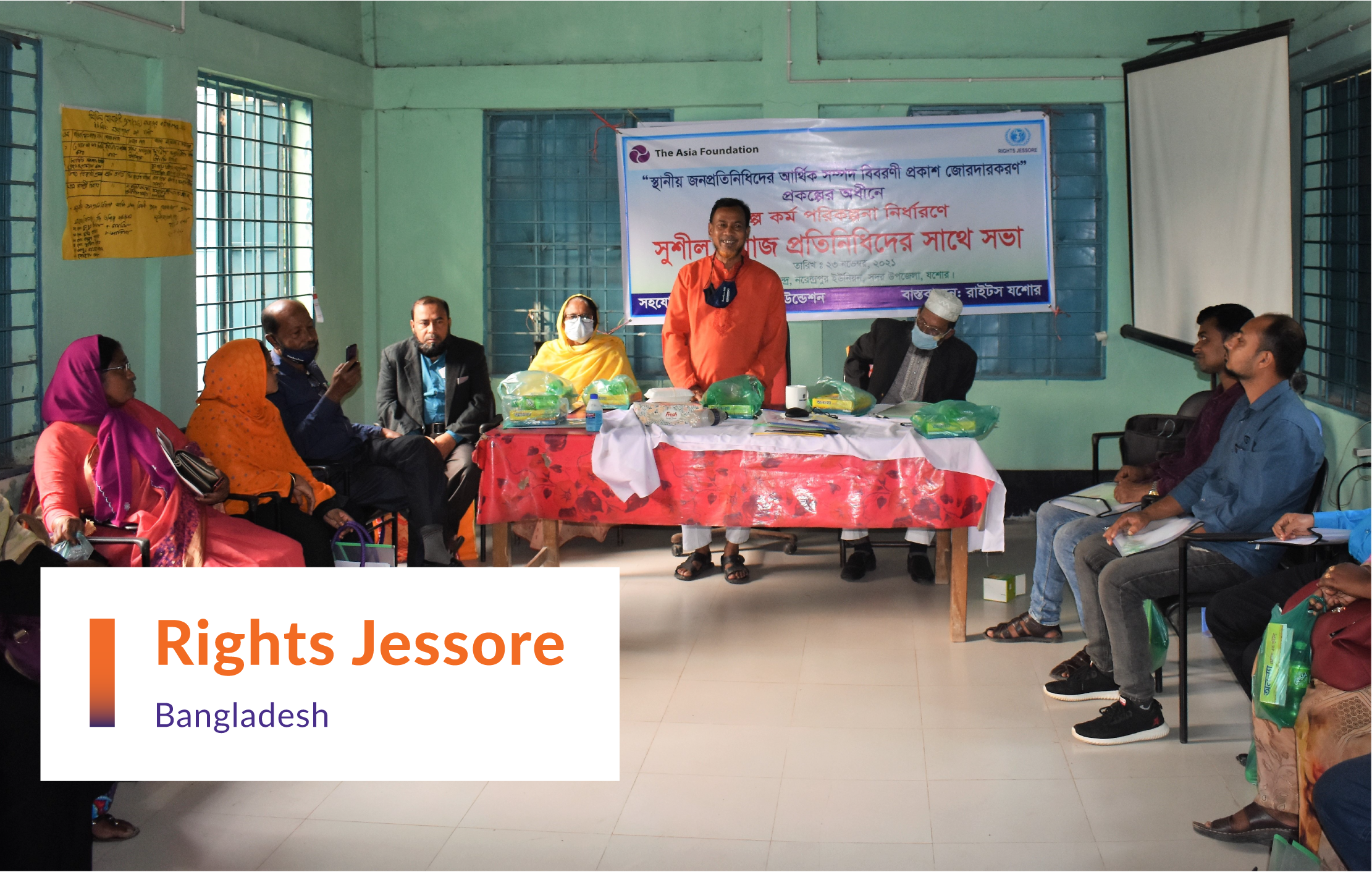 Sustainable Accountability Mechanisms: Promoting and strengthening financial disclosure practices by the local elected representatives
The Problem
Social safety net programs in Bangladesh contribute to reduced poverty and vulnerability by addressing a range of population groups through different forms of assistance. However, transparency and accountability in these programs can be improved. Corruption is one of the main reasons for poor governance in Bangladesh and is also present in social safety net programs. This especially affects marginalized communities, due to ineffective monitoring and lack of transparency and accountability by elected chairman and members of the Union Parishads (UPs).
The Approach
Rights Jessore initiated sustainable accountability mechanisms for elected representatives at the UP level through their financial disclosure twice a year. This was a first in Bangladesh, and has helped to decrease corruption and promote accountability of local elected representatives. The project was launched in January 2021 and ended in December 2021. It was implemented in 10 Unions of eight Upazila in Jessore district, which is situated in the south-western region of Bangladesh. It targeted 10 UP Chairmen and 90 UP Members. The goal of the project has been to improve accountability and transparency of elected representatives through increasing local elected representatives accountable to citizens, minimizing corruption in distribution of relief materials and other social services, and improving relationships between elected representatives and citizens.
The Impact
Corruption in distributing government assistance under social safety net programs decreased. The Bangladesh national media, which highlighted the success of the project, described its activities as helpful for increasing transparency and combating corruption.
Citizens gained awareness about candidate integrity in local elections. Relationships between elected representatives and citizens improved, which helped to bolster pro-poor services and to distribute relief materials.
The project created a framework to measure the standards of candidate integrity and encourage UP chairmen and members to continue these practices.
The Future
Rights Jessore plans to replicate this initiative at the municipal level, selecting two municipalities and targeting mayors and councilors and pressuring them to publish financial statements. The project will also provide an award to the two best UP Chairmen involved in the process and re-elected in recent elections, encouraging them to continue their integrity activities.